Is your springer spaniel in season? Not sure what to do? Then read on as we cover all you need to know!
Unless she is spayed at a very young age, your springer will come into season from around nine months of age onwards (give or take) and may come back into season twice a year after that. 
Springer spaniels are energetic and playful most of the time; however, when female springers are in season, their temperament may change some dogs can get moody, while others may become needy.
Care tips for a dog in season
Safety
It is essential that during your dog's heat, you keep her and any other male dogs separated at all times! This means keeping one dog upstairs and one downstairs, or using the crate for sleeping during her month – it doesn't matter how the dogs are separated, just as long as they are!
It's also advised not to take your dog to any public places on walks and let her off the lead. Parks and beaches are fine so long as the dog is kept on the short lead, away from other male dogs at all times!
In-home care
A springer spaniel in season will need certain parts of her life to be changed in order to cope. Firstly, your girl will probably need a wee more often, so keeping an eye on your dog's tell-tale 'I need to pee' signs is crucial during her season.
She will also be bleeding for a month, so keeping your dog out of carpeted areas and off sofas is a good idea. It may just be that you have to spend more time cleaning every day in order to keep any blood from staining.
Getting your springer used to being at home alone during her season is very important. Leaving something that smells like you, like a t-shirt (which you don't mind letting go of) means that your dog will be comforted when you go out. And be sure to give your dog plenty of hugs and cuddles when you are around!
Dog Diapers for your dog in season
Below is a selection of dog diapers to help keep your home clean while your pup is in season.
Finding this item was a game-changer for me, as it allowed my dogs to be in the home with me as normal, and I did not have to run the risk of lots of messy cleanups.
Sale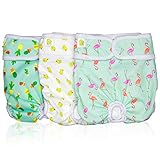 Reusable Dog Nappies – Sanitary Pet Diapers, Highly Absorbent, Machine Washable & Eco-Friendly, 3-Pack, Trending, Medium
【ADJUSTABLE SIZE】Size M: best for Medium dogs & puppies, Waist 39 – 60 cm (15.3″ – 23.6″). *We strongly recommend you refer to our Dog Diaper Size Chart and measure your pet 🐈🐶 with flexible tape to ensure the best fit.
【MACHINE WASHABLE & ECO-FRIENDLY】😊 Easy to clean with no special treatment. Hand / machine washable with quick air drying or low temperature laundry drying. These reusable diapers are Economical & Environmentally Friendly, as compared to disposable diapers.
【SUPERIOR ABSORPTION】💪 Multiple highly absorbent inner layers and a waterproof outer layer which prevents leakage. Best solution for puppy toilet training / untrained dogs / females in heat / pets suffering from excitement-urination / incontinence.
【SOFT & SECURE】Diaper closures are quick & easy to secure and does not stick to fur. Diaper material is SOFT & COMFORTABLE which increases acceptance, No "crinkly" texture that causes many dogs to reject disposable diapers.
【3 DIAPERS in 3 PATTERNS】Per package; one of each – Cactus, Duck, and Flamingo patterns. Newly designed Pet Magasin Diapers will fit a larger range of measurements
Last update on 2023-10-01 / Affiliate links / Images from Amazon Product Advertising API
I prefer the 3 packs as it allows for one to be worn by your dog, one to be in the wash/drying, and one clean ready for your dog to use, that way, you are not caught with nothing for your dog to wear.
Remember to remove them when you let your dog out to go potty! 
Take note of the sizing guides on amazon to be sure to get the correct fit!
There are versions where you can get a replaceable sanitary pad, but I find them messy.
The fully washable or disposable diaper is the way to go!
There are also disposable ones too!
Sale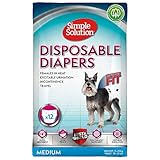 Simple Solution Disposable Dog Diapers for Female Dogs | Super Absorbent Leak-Proof Fit | Wetness Indicator 12 pack
A BETTER FIT – Simple Solution Medium Disposable Dog Diapers with new adjustable fit sizes are for female dogs that weigh 11-23Kg with a 38cm – 58cm waist. These female dog diapers feature a stretchable fabric that fits snugly around your pet
ABSORBENT AND LEAK-PROOF – The super absorbent core locks in all moisture while leak-proof barriers provide added mess prevention that's guaranteed to work. With stretch waistband protection, your girl dog can move around freely while staying dry.
NO MESS – Simple Solution Disposable Dog Diapers have a leak-proof fit that gives your dog freedom of movement without compromising on security. The tail-hole and extra-long wings help them stay put on the wiggliest of dogs. For extra added protection use with Simple Solution Disposable Liners
FUR FRIENDLY – Attaching and removing the diaper is safe and easy with Fur-Friendly Fasteners. Designed with your dog's fur in mind, the diaper stays in place on your female dog without her fur getting stuck to the folds, so attaching and removing the diaper is safe and easy.
COMFORT AND CONFIDENCE – Your female dog will be relaxed and mess-free with the superior mobility of these diapers. The wetness indicator will tell you when to change them. For male dogs, try Simple Solution Disposable Male Wraps.
Last update on 2023-10-01 / Affiliate links / Images from Amazon Product Advertising API
Signs your springer spaniel is coming in season?
Springer Spaniels are dogs with big hearts and are good at showing their emotions, so when your dog is about to come into season, she will give you some tell-tale signs.
A female springer is usually first in season between 9 and 15 months of age, although it can be older! If your dog is in this age range, then you should be looking out for the following signs:
Bleeding
Just like with human periods, a dog's season usually starts with a small amount of blood or bloody discharge. If you see any blood on the floor or in your dog's bed, then she is probably approaching or already in season. Keeping your dog away from carpeted areas and taking the cushion cover off of her bed may be a good idea at this point to avoid staining.
Licking
Your springer will already be good at licking herself clean, but if you see an increase in the amount she is licking herself, then it is probably around the best time for you to start preparing for her season!
Sleepiness
If your springer spaniel seems to be increasingly tired or fatigued, it may be a sign that she is approaching her heat. However, there are lots of reasons why your dog may be sleepy, so make sure to check for other signs before concluding that your springer spaniel is in season.
Overexcitedness
Being in heat has a different effect on each individual dog, so whilst some springers will become drowsy and sleepy, other dogs will become overexcited and more alert. It all depends on your dog's oestrogen levels. 
Neediness
The hormones which control your dog's heat can also make her more clingy to you, as the owner. She may become more distressed when you leave the house and will want lots more cuddles. See more about this in the care section.
Swelling
This is the most common sign that your springer is coming into heat. If you see any swelling around your springer's genitals, this means that she maybe about to come in season!
Keep a record of your dog's heat cycle
Doing this can be useful for several reasons, so really is worth doing. 
A simple note in your diary or on your phone is all it takes.
You could even set a reminder on your phone at around five months from her last heat, that way you won't forget!
Reasons to keep track of heat cycles
if you keep a male dog around, you will have a rough idea of when to separate her from him if you do not intend to breed your dog.
If you do plan to breed your dog, this can help you be prepared and know when to find a suitable stud dog.
Can help to keep your home clean, if you know she is due in season you can move her to an easy to clean part of the home(tiled floors etc.)
How long does a dog stay in heat?
Springer spaniels will come into season twice a year after their first heat. Each season will last around 21 to 28 days (almost a month), and it can be a good idea for you to track how long each season lasts(see above), to make sure that your dog is regular and healthy. 
If you are looking to spay your dog (the female equivalent of neutering), then there are specific time periods that are best for the operation, to keep your dog happy and healthy afterward:
4-9 months – this is a good time to spay if you have just acquired an unspayed puppy. Spaying at this time means that your springer spaniel will most likely never come in season, as most spaniel will come into season around nine months old.
After the first heat – you could also spay your dog at this time if you acquired the puppy later in her life. However, spaying at this age does increase the risk of mammary tumors, which is something to be aware of.
Spaying at an early age is the safest route to go down, so if that is possible, then spaying your spaniel at 4-9 months is the best option.
If your dog has already been through several heats and is still not spayed, then it may be too late for you, as the dog will have a one in four chance of developing a life-threatening tumor if spayed at this age.
It is also important not to spay too young! If your dog is younger than four months, then her ovaries will not be fully developed, and this could cause serious health problems.
Can I breed my dog in her first season?
It is in not recommended to breed your dog on her first heat cycle; she is still a puppy her self.
At the time of her first heat cycle, she will not be ready for a litter of puppies, both in body and mind.
Technically she could conceive but should be avoided, to allow her to mature.
Chances are at her age she would not take to a litter very well.
If you have mated your dog, why not check out our puppy due date calculator here!
Cleaning and hygiene for a dog in season
AS most of our pooches share our homes with us, it's essential to keep our homes clean.
Here are some tips to get you through your dog's heat as cleanly and hygienically as possible.
Try to contain your dog in an easy-to-clean room with tiled or vinyl flooring, something that can be easily mopped up.
Keep here away from any sort of furnishings she could jump on as they could be a problem to keep clean.
Avoid carpeted flooring if you can, it's just hard to clean.
IF your pooch can not be kept in an area that is easy to clean, you can buy hygiene pants to put on your dog.
When cleaning tiled flooring use a pet-safe disinfectant as most non-pet safe ones can damage your dog's paws. Always allow the flooring to dry before letting your dog back in the room.
Use easily washable blankets and throws for furniture and be sure to have a spare on hand to change with when washing.
Most dogs do a good job of keeping themselves clean during heat, but if your pooch is finding it hard, a quick bath with just plain water is fine.
Final Thoughts
A springer spaniel in season will need plenty of care and attention, as well as protection from other male dogs. Your dog will be in season for around a month, and this will happen twice a year, so if your springer is not spayed, then make sure she gets the care she needs when she is in season!
As always if you have any doubts about your dog, always seek the advice of a vet.