Just as you like to be comfortable when you sleep, so does your springer spaniel. There are many things to consider when buying a mattress, and the same goes for purchasing a dog bed.
Size does matter when buying either. What size bed does a springer spaniel need? In the following reading, you will learn what size bed to buy as well as some types of beds to help keep your pup cozy and comfy in their springer spaniel bed.
What Size Bed Does a Springer Spaniel Need?
Your springer spaniel has a lot of energy and plays hard. With all of this exercise, they need a good night's sleep to keep them healthy and energized, and it should be in their very own bed. Springer spaniels sleep anywhere from ten to twelve hours a day, and their bed should give them ease for a nice undisturbed sleep while supporting their body in comfort.
Size is a crucial aspect when buying a pet bed. Just as you wouldn't want a bed where your arms and legs dangle uncomfortably off the bed, this is not restful for them either.
When looking at dog beds, keep in mind that if your spaniel is a puppy, you will be shopping for another bed when they are fully grown. Also, don't assume that one size fits all or go by the charts on the tags that are found on beds. 
If tags just include the size for different breeds, this does not necessarily mean your spaniel is the same size as another spaniel. Each is individual. Your spaniel is a medium-sized dog but may not fall into the weight and measurement category of all medium-sized dogs.
The best way to get the correct size of bed for your springer is to measure them. When measuring your pup, use a tape measure and measure from the tip of their nose to their tail. 
Next, measure from one shoulder to the other shoulder at the widest point. The shoulder measurement is the minimum width of bed you should buy. Add an additional six to twelve inches so your pup will have room to stretch. Use these measurements as a guide when shopping, and if you're unsure and their measurements are on the high side of one size, choose the larger size.
Check out our guide on the best beds for your springer
Bestseller No. 1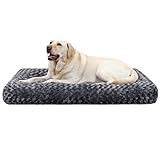 Bestseller No. 2
Bestseller No. 3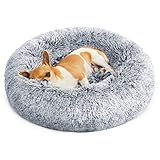 Last update on 2023-12-02 / Affiliate links / Images from Amazon Product Advertising API
Springer Spaniel Bed Size Guide
Your springer spaniel is considered a medium-sized dog, but not all medium in size dogs are the same size. Most dog beds have the same measurements, but depending on the manufacturer, they can differ slightly. Below are measurements for pet beds.
SMALL – 20 INCHES X 30 INCHES 15LBS – 20LBS
MEDIUM – 25 INCHES X 35 INCHES 30LBS -40LBS
LARGE – 30 INCHES X 40 INCHES 50LBS – 60LBS
X-LARGE – 35 INCHES X 43 INCHES 70LBS – 8-LBS
A female springer spaniel usually weighs from 40lbs to 50lbs. Their height can be anywhere from 25 inches to 31 inches and at the withers 18 inches to 20 inches. A female's length will range from 27 inches to 33 inches.
A male springer spaniel may weigh from 45lbs to 55lbs. Their height is in the same range as the female, 25 inches to 31 inches, but at the withers, 18 inches to 22 inches. Length can be in the same range, 27 inches to 33 inches.
All of these numbers are averages. A female may need the medium bed, while a male would be more comfortable in the large. This is why measurement counts. You can't just go by weight. Read each tag on every bed because manufacturers don't all go by the same scale.
Another consideration is the way your spaniel sleeps. If they instinctively curl up when they sleep, buy the normal size anyway because the excess area will wrap around them to help them feel warm, safe, and secure.
If your pup loves to spread and stretch out, always consider the larger bed, especially if their measurements are on the upper end of the size you're looking at; size up.
Purchasing the wrong size bed can be detrimental to your spaniel's health. The bed's incorrect size can cause restless sleep, back and hip issues, and sore muscles and joints. 
Types of Dog Beds
Along with buying the correct bed size, buying the right type for your pup is important too. There are different types of dog beds, and listed below are a few styles. By gauging your spaniel's personality, you can determine which is right for them.
DONUT -This bed is a round bed that reminds one of a donut! These are great beds for dogs that love to curl up. They will keep your pup cozy and warm, but keep in mind that even sizing up in this type may not give them room to sprawl out.
CAVE BED – These are interesting beds with many styles. If your spaniel likes to burrow under blankets. They may like this bed. The beds have an opening with an overhang that keeps them comfy and cozy. The interior is usually made of a lambswool material that is faux. This bed does not offer any room to stretch.
PILLOW BED – This bed is exactly that; a large pillow. They can be quite comfortable; however, this type of bed does not offer the best support. It may be good for a younger springer, but if your pup is older or has any joint problems, this would not be ideal.
MEMORY FOAM BED – This is a great bed for any springer, but perfect for the senior spaniel, as it offers just the right amount of support for an aging pup to help them wake up well-rested without aches or pains.
ORTHOPEDIC BED – This is another wonderful choice for springers with any joint or muscle issues. These beds can support their legs, neck, and back, while alleviating any pain.
SOFA BED – Yes; a dog sofa bed! If you don't allow your springer on the furniture with you, then this is the bed for them, perfect for lounging or sleeping. They are very comfortable while being extremely stylish, fitting in with any decor!
HEATED BED – If you live in a colder climate, a heated bed might just be for your springer. It may be a little too warm for your spaniel, as they have quite a bit of fur though. The bed could be another good choice for senior pups. Keeping them warm while soothing aches and pains.
Material and Washable Beds
Two other considerations to keep in mind are the material the bed is made of and if it's washable and easy to wash, a washable dog bed can be a lifesaver if u have a messy pup.
Consider your climate when choosing a bed. A sherpa-lined warm bed would be great for cold climates, while a lighter weight material a better choice for warmer areas.
Also, check out the material's texture; some dogs may prefer a plain, smooth material, while others may like something soft and fluffy.
Another big concern is if you can wash the bed. Does the bed have a cover you can remove and wash? Is the bed easily washable and dryable? 
Some beds also offer waterproof covers or are waterproof themselves, useful for when your springer comes in wet and muddy and flops right on their bed or if they get sick and throw up on it. You know that never happens on an easily cleaned floor!
Final Thoughts
Whether shopping in the store or online, when purchasing a dog bed, there are many things to consider. Do your research wisely and choose one that will suit all of your pup's needs.
Make sure the bed is returnable if it doesn't work out. Most important, measure your spaniel for the right fit for them. When buying a springer spaniel bed, size does matter.