Yes, generally they are good with children. They run, they jump, they play, they spill water on the floor, they nap. Is this a springer spaniel or a toddler? Both! Often, dogs exhibit childlike tendencies; in fact, dogs and children sometimes seem quite similar.
Are Springer Spaniels Good With Children? Some dog breeds are, and some are not, but personalities differ in all breeds of dogs so the breed may not be all you need to think about. 
Following is information about springers and children and some helpful tips if you plan to add a springer to your family or add a baby to your springer family.
Are Springer Spaniels Good With Children?
Yes. Springer spaniels are generally very good with children. Springer spaniels are a very loving and gentle dog. They are easy to train and eager to please.
Springers adore being with their family and being so people-oriented. They don't like being left alone for long periods of time. They like being included in family fun and outings. This is why they adjust well to living in a household with children.
They are often just big goofy kids themselves! There are a few things to keep in mind if you are considering adding a springer spaniel to your family.
Should We Get a Puppy or Adult Springer Spaniel?
If you are contemplating adding a springer spaniel to your household and have children, you need to consider a few things before taking on this responsibility. If you have a baby, more thought should be put into the process.
A baby is a big responsibility, and adding a dog just escalates the many tasks and time needed to be fair to both. Your new dog would take a backseat to the baby, which would be understandable, but unfair to your dog.
If you have a toddler, adding a springer puppy would be an ideal arrangement because they would grow together, quickly forming a close bond.
Acquiring your puppy from a reputable breeder would be the only way to go. Animals purchased at pet stores may come from puppy mills and most often have inherited behavioral problems as well as being genetically predisposed to physical diseases.
An adult springer spaniel should only be adopted if you have older children. Dogs that are adopted from shelters are often frightened or skittish and need additional attention to acclimate them to their new surroundings.
They may require a little more time and patience, and older children understand that better and are more than willing to help their pup get comfortable. A calmer household with older children would be preferred because young children are often very busy, boisterous, and shrill.
This could frighten your new spaniel and set them up for even more behavioral issues, such as seeking out hiding places or aggression.
Most times, an older dog and older children are a good combination. The child helps your pup to overcome fears, and your dog, in return, teaches your child compassion and patience.
Introducing a Baby to Your Springer Spaniel
First things first I would 100% recommend putting a muzzle of your dog before introducing any baby or young children to your dog.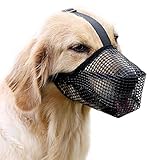 Dog Muzzle Soft Nylon Muzzle – Adjustable Breathable Mesh Muzzle, Dog Mask, Mouth Cover for Anti-Biting Anti-Barking Licking (Black, Size L)
🐶 PERFECT DESIGN — Breathable mesh design with tongue out, puppies can breathe freely. Triangular fixation, more firm and anti-dropping. Effectively prevent biting, chaos, and chewing.
🐶 HIGH QUALITY MATERIAL — The dog muzzle is made of environmentally-friendly PVC material, has no odor, breathable and comfortable, and the edge fabric is soft and wear-resistant, and it has no harm to the skin.
🐶 ADJUSTABLE STRAP — The dog muzzle has an adjustable strap that allows you to adjust the strap to make it fit perfectly to keep it stable and make sure it won't be removed by your dog.
🐶 SUITABLE FOR LONG SNOUT DOGS — This secure muzzle is ergonomically designed for dog with long snout. Suitable for Golden Retriever, Border Collie, German Shepherd Dog, Labradors, Corgi and other long snout dogs.
🐶 SIZE SELECTION — Please refer to the size chart of picture 7 to choose the suitable size according to the weight and mouth circumference of the dog. Any question, contact us anytime.
Last update on 2023-10-01 / Affiliate links / Images from Amazon Product Advertising API
So, you already have a springer, and you are expecting. You want things to go smoothly when you bring your baby home. Planning ahead will help.
Ensure your spaniel is trained correctly to ensure no jumping and that they know that you are in charge by being obedient and listening to commands. Keep in mind that when introducing your baby, this will be something new for your dog.
You yourself will have to adapt, and schedules will change. Don't wait until the last minute to begin to familiarize your springer to the coming changes.
Make Changes Gradual
Give time to alter the family lifestyle and don't change everything at once. Make adjustments gradual.
Cut Down on Attention
Your springer has probably been the center of the universe for a while. There won't be as much time or energy to lavish all of your attention on them in the coming months.
Slowly lessen the attention you give your pup. This does not mean ignore them, just lighten up a bit. A little less playtime and a little less fuss. When the baby arrives, there will be less time to go around.
Sounds
Playing a recording of baby sounds will help your spaniel get used to the new sounds they'll be hearing in the coming months.
Smells
Introduce baby smells to your dog, such as baby powder, lotion, etc. You can also go through routine chores you'll be doing once the nursery is set up to begin to acclimate your pup to the coming events.
Safe Spot
Have a safe spot for your springer spaniel with a bed or blanket and toys. Train them to go there by command. This spot is good for two reasons. If your dog gets a little over-eager with the baby, you can tell them to go to their spot in a gentle but firm way. When your baby begins crawling and then walking, they may pester your dog, and your pup may want a place to go that is theirs alone for quiet time.
Baby Day
When you bring your baby home, enter, and greet your dog without the baby first. Then when they are calmer, bring your baby in and introduce them. At first, allow your spaniel to smell the baby but not too closely. Take each new step slowly.
Acclimation
Your spaniel may do just fine right from the start, but sometimes dogs may become a little jealous. Take everything slowly, introducing in small steps, and never showing anger.
If a gate is needed in the nursery doorway, that is perfectly acceptable. You can allow your pup in the nursery when you are in there changing, feeding, etc. The biggest number one rule would be to never leave your springer alone with your baby no matter how loving and well-behaved they are. This is true for any dog breed.
Toddlers and Beyond
Your spaniel will fall into your routine with baby, but once crawling and walking begin, things will change again. This is where your pup's safe space comes into play more than ever. They can find a spot away from being chased unless, of course, they want it!
Never scold your pup around your baby or toddler. You don't want any negatives associated with your child. Also, teach your toddler from the beginning that they must be gentle with your springer. It's not okay to poke or pull fur. Before you know it, they will form a strong bond and grow into the best of friends.
Puppies and Toddlers.
There is nothing more ideal than the relationship between puppies and toddlers or small children. What could be more fun? They both give love unconditionally, and they both love to play. Again, take the introduction slowly, trying to keep the excitement to a minimum in the beginning.
Teach your child to be gentle with the puppy and don't allow them to pick them up unless you teach them the proper way, and if you are present. Don't allow them to be rough or pull fur. You want loving, gentle children as well as puppies. No bad habits for either, including the puppy.
Teach your springer puppy that biting with their little needle teeth is unacceptable. Your toddler could pick up on this and think that biting is okay! The most significant rule is supervision.
The two should not be left unattended. This will assure you that they will spend many happy hours filled with fun and enjoyment as they grow up together.
Adult Springers and Older Children
Again if you have older children and are considering adopting a springer spaniel, your children would be the biggest help in welcoming them into your home.
The same goes true for an adopted spaniel. Take things slowly and don't overwhelm them. Explain to your children that your pup needs love and patience and to always be gentle and kind.
Don't forget to set rules for everyone. In time your springer will adjust nicely and will soon fall into your family routines. Spaniels are a great family dog, and they love to be in the mix of things with an active family and all of their adventures.
Things to Consider
Whether puppy or adult, springer spaniels are very good with children. Keep in mind that proper training and discipline for all is necessary to avoid problems down the road. Allow your children to participate in training.
Toddlers can help too, and it may even help them. Your puppy has a place to do his business, and so does your toddler. Housebreaking and toilet training just might be a snap!
Exercise is essential for your springer spaniel as well as for your children. Everyone can go for walks, and it's wonderful for the whole family's health. Do not allow your child to walk your pup on the leash until they are ten or older. This is the best and safest way for your dog and also your child.
Your children will also be learning responsibility by helping to care for your dog or puppy. Even small children can help with brushing (gently), cleaning dog dishes, or refilling food and water bowls.
Having a springer and child will help immensely with the socialization of both. They will be social with each other, and they will become more social with any friends they meet at the local park; doggie and human alike.
Final Thoughts
Springer spaniels are usually very good with children especially if you got your springer as a puppie and they have grown up together. Remember that training and supervision are key to a home full of fun and a well-run, stress-free home.
An addition of a springer spaniel to your family will fill your home with laughter, love, and so many wonderful memories for years to come.